FTC & UT
---
An Overview
---
FantaVerse is built on token economics and every segment in BIGANT has a token economic cycle. The entire metaverse uses an ERC-20 ecosystem token - FantaCoin (FTC). FTC is mainly used for DAO decentralized governance and revenue sharing.
The goal of FTC is to establish a set of economic mechanism to support a sustainable and continuous operation and development of FantaVerse. The mechanism has two main goals:
1. Reward players and nodes who participate in the development of FantaVerse, encourage them to hold tokens.
2. Decentralized development of FantaVerse ownership and governance.
The Universal Token (UT) is the token used in the FantaVerse metaverse game. Pricing will depend on utilization by players, internal utility within the game, further development and expansion of the game as well as demand forces.
For breeding, both FTC and UT are required.
Players can stake FTC to earn UT.
When the FantaVerse game is launched, players earn UT through the Play&Earn model and UT can be used to purchase Galaxy Points (GP) in the game. GP can be used to purchase game equipment, weapon levels, etc. Currently, GP cannot be transferred between game accounts.
FTC (FantaCoin)
---
UT (Universal Token)
---
GP (Galaxy Points)
---
How to obtain GP:
1. Completing game tasks
2. Purchased with UT (1UT = 10GP)
3. When a character mines for UT in the game
Use Cases:
1. Build houses
2. Upgrade weapon levels
3. Purchase virtual items
FANTAVERSE MINING MACHINE
---
sFTC is a cryptocurrency that uses FantaVerse mining machines to provide storage, CDN acceleration, cloud game computing services for FantaVerse metaverse and network transmission of equipment data. sFTC and FTC exchange will be 1:1.
When developers utilizes storage, CDN acceleration and FantaVerse, sFTC is consumed during transmission of data and payment for blockchain transaction fees on FantaVerse.
FantaVerse physical mining machine provides distributed storage, CDN acceleration services and FantaVerse cloud gaming service. In order to promote FantaVerse nodes globally, physical mining machines will be based on a licensing system. Each connecting hardware manufacturer will have to obtain a license in their respective country. Applications for FantaVerse physical mining machines will be available in Indonesia, Malaysia, South Korea and the United States. These will be the first few countries for testings and deployment.
STAKING & MINING
Staking: FTC staking per physical node, pre-staked, staking amount will be announced after testing on network. FTC staking value will be adjusted according to the number of participating mining nodes.
Mining output: sFTC output from FantaVerse mining machine will be 27% of the total FTC supply. The mining output for the first year will be determined after the network is online, and reduced proportionately thereafter. For example, the output for the first year is 10% of total FTC and will be reduced by 10% for subsequent outputs. The specific values will be determined after the network is officially online.
sFTC can be exchange with FTC via cross-chain bridge in FantaVerse wallet.
Use benefits: Participating mining machines will earn when developed and users utilizes FantaVerse mining machines for storage, CDN acceleration, cloud gaming services.
Consumption: A certain amount of sFTC will be consumed when blocks are added on-chain. Consumption amount will be adjusted according to real-time data.
Play&Earn
---
Universal Token (UT) is the token used in FantaVerse metaverse game. It can be used for character breeding, purchase of epic equipment, Galaxy Points, etc.
Play&Earn Model:
1. Play&Earn: 97,200,000 FTC – 27% of the total supply of FTC
2. UT total supply is 7.2 billion – 97% used for game play reward, 3% for ecosystem cooperation
3. UT supply for the first year will be 10% and adjusted according to the number of participants using the following formula:
∫(T)=√(n/m)*P
Assuming maximum output for each account is 12, which can be specified by contract or company
Example: p=194400000/365 days = 532600. The theoretical maximum number of pax 532600/12=44383
The actual daily output will gradually reach the theoretical maximum value from 0
If n>m, the output is adjusted, but the maximum output per day remains unchanged.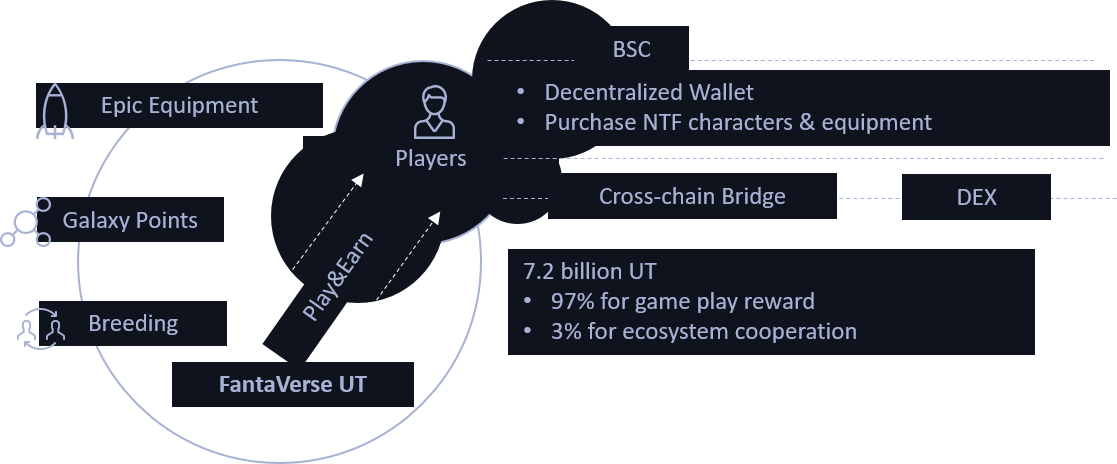 Preparation:
1. Decentralized wallet on BSC
2. Purchase of NFT characters on BSC chain to participate in the game and increase daily income through purchase of weapons and equipment.
Play&Earn Process:
1. Obtain treasure chest in PVE/PVP, treasure chests awards UT
2. Option to utilize cross-chain bridge for UT
3. Decentralized exchange – UT can be exchanged with FTC
Token Economy
---