The Terrans
---
Tracing their origin to tens of thousands of years ago, Terrans are the predominant race on Meta Earth. As their populations expanded, they grew to inhabit the three continents of the planet with diverse cultures, faiths and complexions.
Their long history has witnessed the rise and fall of numerous countries. But the "Second Space Expansion" was a major catastrophe for them that obliterated many countries, resulting in a sharp decline in population.
In fact, the Terran race wouldn't have survived if they had not been blessed with great heroes like Abis, Drake and Kenzie, who led their people through those calamitous times. Terrans set about rebuilding their home in the wake of the disaster. But this time they had the entirety of their race in mind so as to curb internecine wars.
This spirit of unity enabled the race to enjoy rapid development in their later history. Relying on newly found energy sources, their science and technology flourished.
Terrans are a highly intelligent race in the universe, known for their scientific and technological prowess and extraordinary adaptability despite an average physique. Today, Terrans are a force to reckon with by virtue of their powerful technologies.
Breeding
---
Each character can be used for breeding for a total amount of 7 times, with an interval of 5 days each time.
Select a character in the NFT Marketplace, click "Breed" and select a character of the opposite gender.
Siblings and parents cannot be matched for breeding.
FTC and race token authorization in Metamask is required for players breeding the first time.
The FTC and UT required for breeding will correspond with the breed count of the character.
Players can view hatched infants in the NFT Marketplace.
The infant will transform into a character after the required time.
UT and FTC is required for breeding.
| Breed Count | Male | Female | FTC |
| --- | --- | --- | --- |
| Breed Count 0/7 | 300 UT | 300 UT | 20 FTC |
| Breed Count 1/7 | 450 UT | 450 UT | 20 FTC |
| Breed Count 2/7 | 750 UT | 750 UT | 20 FTC |
| Breed Count 3/7 | 1200 UT | 1200 UT | 20 FTC |
| Breed Count 4/7 | 1950 UT | 1950 UT | 20 FTC |
| Breed Count 5/7 | 3215 UT | 3215 UT | 20 FTC |
| Breed Count 6/7 | 5100 UT | 5100 UT | 20 FTC |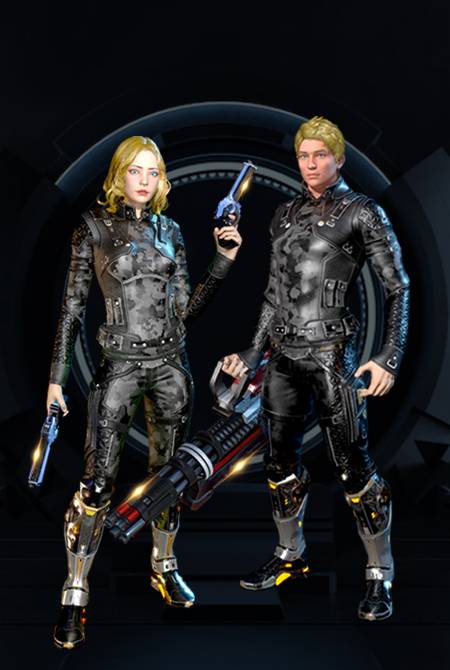 The BioMechs
---
The BioMechs originally lived on their prosperous mother world that was utterly destroyed by a massive invasion and the war that ensued obliterated their planet.
After a long cosmic voyage in search of a new home planet, the BioMechs landed on Dust Planet and made it their home.
However, the newly formed planet constantly emits dust-light particles which fall back to the ground after releasing their energy in the sky. Inadvertently, to stave off any possibility of extinction, the Biomechs choose to master and ingest these dust-light particles.
The BioMechs decisively chose to fuse and adapt their bodies with dust-light particles through their secret bio-remediation process - a process that unfortunately alters their genes and their souls. But the Biomechs' embodiment of dust-light particles endowed their bodies with a high degree of adaptability to technological equipment, paving the way for BioMechs to become a technologically elite civilization despite dust-light's negative effects and the BioMechs' own challenging past.
The BioMechs are emotional, passionate and they fiercely value freedom. Think twice (Heck! Make that thrice!) before messing with the BioMechs!